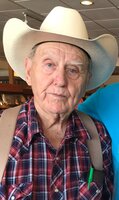 Lonzo Franklin Green
Green, Lonzo F
Gladwin, Michigan
Lonzo passed away on June 17, 2022. He was born on August 14, 1928 to Frank and Melverta Green in Cherry Valley Arkansas. He was a member of Good Shepherd Church and the Michigan Bluegrass Hall of Fame. He enjoyed attending church, Preaching, playing music, and spending time with family. He was active with Wilma Caraview, often attending church together, visiting friends, and playing music together.
He is survived by his son, Rod Green and partner Karen Moore; grandson, Rodney Green and partner Jessica Miller; nieces and nephews, Barbra and Larry Allen & family, Denita and Gary Hiltz & family, Gary and Andis Green, and Andrea and Casey Murphy & family.
He was predeceased by his wife Maxine Green; daughters, Linda and Nova June; and sisters-in-law, Margie Baker and Alana Sue Kister.
A Celebration of Life will be held at a later date. For further information contact Rod Green. In lieu flowers, those planning any expressions of sympathy may direct them to The Green Family. To sign online guestbook, visit www.cremationsocietymidmi.com Arrangements made with the Cremation Society of Mid Michigan.