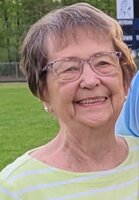 Shirley Regetz Milliman
Shirley Mae (Regetz) Milliman 87, passed away July 2, 2022 at her home on Sanford Lake, Sanford, MI. She was born in Ann Arbor, MI on April 24, 1935 to Harry and Sylvia (Macki) Regetz. Raised and educated in Ypsilanti, MI she then attended Michigan State Normal College (now Eastern Michigan) where she met her husband to be John Prescott (Scotty) Milliman while he was carrying a goldfish in a plastic bag as a fraternity pledge.
Shirley and Scotty were married July 16, 1955 and moved to Midland, MI (Scotty's home town) where both became employed at Dow Chemical Company. They had three children, Robert in 1956, Cheryl in 1957 and Brian in 1958.
After raising us kids to school age, mom returned to Dow Chemical Company in 1964 to help support the family while dad went back to college to obtain his teaching certificate. She retired in 1992 as executive secretary and office manager of Global Services. Dad also retired that year.
In the early years, family entertainment was taking the canoe down to Emerson Park on a Sunday afternoon and motoring upstream and then paddling downstream while we three little kids and a dog sat at the bottom of the canoe whining "when are we going to go home?" After dad started teaching in 1966 the family was exposed to sailing. Owning three successive sailboats over three decades we all enjoyed sailing the Great Lakes and the North Channel. After retirement, mom and dad motor homed around the country and wintered in Mission, Texas for twenty-five years. Mom enjoyed knitting, reading and going for car rides. Prior to Covid, mom volunteered for several years at King's Daughters Home thrift shop.
Mom is survived by her husband, Scotty; children, Robert (Dianne Pruss) of Midland, Cheryl (Tim) Sturgeon of Beaverton and Brian (with Diane Heimrich) of Sanford; three grandchildren; six great-grandchildren; and one great-great grandson. She is also survived by their beloved Corgi dog, Buddy. Mom was predeceased by her parents; her in-laws, John S. and Ione (Roscoe) Milliman; brothers, Harry Jr. (at age 17) and George (Dorthea) Regetz.
Per mom's wishes, no services will be held. Please have a fond memory of her. The Midland Humane Society will appreciate any memorial donations, mom said she would like that. To sign online guestbook, visit www.cremationsocietymidmi.com