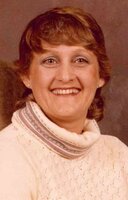 Judy Marie Cook
Cook, Judy M.
Mount Pleasant, Michigan
Judy Marie (Baxter) Cook was the first born to the late Donald and Francis Baxter in Alma, Michigan on September 3, 1942. Judy graduated from Murphy Beauty School and was later an instructor and retired from the California Connection Salon in 2004.
Judy was married to Kenneth Cook on March 14, 1959 and they quickly started their family and had three children, Renae (Thomas) Wheeler, Rodney (Lourdes) Cook and Kevin (Patty) Cook.
Judy's outgoing and friendly demeanor is what attracted so many people to her. She had that sparkle in her eye that let you know she was up for anything, even mischief. She will be remembered for her skills at video games, gardening, her homemade potato salad, and the many camping trips she took her grandchildren on. She also had a love of quilting, going to the casino and hummingbirds.
Judy's joyful spirit will carry on in the many people who loved her including: her husband, Kenneth Cook of Mt. Pleasant, MI; their three children, Renae (Thomas) Wheeler of Midland, MI, Rodney (Lourdes) Cook of Portland, TX, and Kevin (Patty) Cook of Collingswood, NJ; her siblings, Patricia (Keith) Renner of Farwell, MI, Wendy (William) Shaver of Michigan City, IN, Sherry (Tom) Marshall of Grandville, MI; Jerry (Katie) Baxter of Madison, GA; Ronnie Baxter of Madison, GA; the late Donna (Glen) Dowell, Grass Lake, MI; Ed (Olive) Baxter of Sun City West, AZ; her grandchildren, Nathaniel (Heather) Wheeler, Nicole (Gary) Beck-Irrer, Saundra (Joshua) Rozenboom, Jonathan (Jodi) Wheeler, Jessica (Jerry) Cook-Peterson, Justin Cook, Timothy (Danika) Wheeler, Kenneth Cook, Aaron Wheeler.
Thank you to Northwoods Nursing Center of Farwell, MI for all the love and care over the last three years. To sign online guestbook visit www.cremationsocietymidmi.com