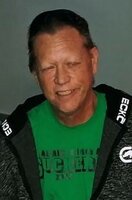 Timothy Michael Mazei
Mazei, Timothy
Sandusky, Michigan
Timothy Michael Mazei, of Sandusky, Michigan, passed away peacefully at home on August 2, 2022 at the age of 57. He was born on April 11, 1965 to the late Donald and Sharon (Robinson) Mazei, in Trenton, Michigan. Tim worked as a Senior Account Manager at RCO Engineering Inc., with 30 years of loyalty and dedication.
A fifteen-year battle with cancer has come to an end, but Tim left nothing short of a legacy behind. Hundreds of colleagues, dozens upon dozens of friends, nieces and nephews that idolized him, a brother who would drop anything to care for him, a granddaughter who was equally as infatuated with him as he was with her, a daughter-in-law that he appreciated and welcomed with open arms, and a son and daughter who still think he may have hung the moon. Tim had the biggest heart wrapped in a stubborn exterior. He'd have some choice words for you if you attempted to pay the tab. He opened his home to friends when they needed a safe space or just an ear to listen. He rarely lectured anyone; but when he did, he had a valid point to make, learned from a lifetime of experience. The older his children got, the wilder the stories he'd feel comfortable to share from his younger days. It was a safe bet that you'd find Tim in the Mazei garage with a Jack and coke in hand, most likely singing along to some Jamey Johnson. He didn't like to be the life of the party, but he definitely knew how to keep the party going. He lived fast and hard, but man, did he live.
Tim is survived by his daughter, Jericka Mazei; son and daughter-in-law, Chad and Paige Mazei; granddaughter, Raegan Mazei; brother, Rick Mazei, niece and nephews, Jessica Mazei, Jennifer Mazei (Carl Begley), Chelsea Mazei (Michael Barker), and Cassidy Mazei (Johnny Tkalcac); as well as many great nieces and nephews.
A Graveside Service will be held at 2:00 PM, on Friday August 26, 2022 at Greenwood Cemetery (832 S. Sandusky Rd, Sandusky, MI 48471). A Celebration of Life Open House will follow, beginning at 4:00 PM, at Sandusky Knights of Columbus Hall (145 Wedge Rd, Sandusky, MI 48471). If you would like to camp with the family for the evening, please contact Rick, Chad or Jericka in advance.
Arrangements made with Cremation Society of Mid Michigan. To sign online guestbook visit www.cremationsocietymidmi.com