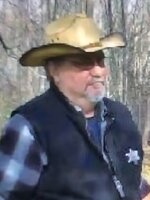 William Floyd Burleson
Burleson, William F.
Pinconning, MI
William passed away August 8, 2022 at the age of 68. He was born in Pinconning October 26, 1953 to the late Ralph and Irene Burleson. He was a member of American Legion, proudly serving his country in the U.S. Navy. He enjoyed spending time with his family and friends, playing pool with John, and was an active gardener, hunter, and traveler.
He is survived by his wife, Geralyn Burleson; his sons, William G. Burleson, and Travis (Laurel) Burleson; girls, Lisa Smith and Kimberly Branda; grandchildren, Henry Burleson, Dashel Burleson, Destiny Branda, Bradley Branda, Tyler Smith, and Casaundra Gagacki (Smith); four great-grandchildren; and siblings, Larry Burleson, Ralph Burleson, and Clifford Burleson.
Per his request, cremation has taken place and he will be placed at Great Lakes National Cemetery in Holly MI at a later date. To sign online guestbook, visit www.cremationsocietymidmi.com Arrangements made with Cremation Society of Mid Michigan.