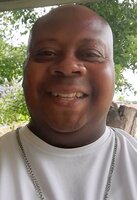 Jermal Stephen McCullum
Jermal "Jay" Stephen McCullum, age 52, passed away Wednesday, August 31, 2022. He loved supporting his children in athletics, was very involved in Bangor Township sports, doing community volunteer work, and was a great Detroit Lions Fan. His greatest accomplishment were his 3 children, Jaeci, Jalana, and Avery; and his grandson Julius.
He is also survived by the closest and oldest sister, Cynthia Davis, followed by his two younger sisters, Pricilla and Thomasine; many nieces and nephews; friends, including Angela McCullum (mother of his oldest child), Clifford Harris, Charles Smithers, Brian Gripentrog, Chad Gripentrog, Tony Ferranti, Roosevelt "Laron" Currie; girlfriend and mother of his two youngest children, Angi Schalk; Jackie and Al Herman, grandparents of his two youngest children and close friends. His grandmothers were special to him, Ernestine Catron, Vera Mae Worthy, Maybeline McCullum. Special thanks to the support of MidMichigan Medical Center, the Bangor Township Schools, and The Avenue Hair Studio and Spa.
He was predeceased by his parents, Cynthia Catron-Worthy & Richard McCullum, and step-father, Thomas Worthy. To sign online guestbook, visit www.cremationsocietymidmi.com Arrangements made with the Cremation Society of Mid Michigan.