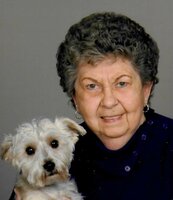 Elizabeth Jo McKenney
(McKENNEY) WENSINK, ELIZABETH JO "Betty"
Of Deford/Kingston/Caro, Michigan.
Passed away September 3rd, 2022, at the age of 82 years. She was born January 21st, 1940 to the late Johannes Wensink and Johanna Hilda (Peters) Wensink, in Detroit/St. Clair Shores, Michigan. Betty was one of six children.
She was a 5-year member of the Foster Grandparent Program and truly enjoyed being a "well-loved Grandma" to so many children at the Kingston Elementary School.
For 5 years, Betty was a floral designer with Kroger and Belk in North Carolina.
She retired from the Lear Corporation in Marlette as Production Line worker, running presses and stitching machines.
Betty absolutely loved crafting. Sewing was her superpower, a seamstress, upholsterer, quilter, knitter, and crocheter. She was sew perfect! "A jack of all trades a master of none, but oftentimes better than a master of one."
She enjoyed playing the piano and gardening. Most of all spending time with her children and grandchildren.
Betty was an active member of the Deford Community Church.
Survived by: Children, Michael (Mike) McKenney, Martina Jo Harding, Nanette Ruth (Nina) Shockley, Jody Lynn McKenney, Amanda Maynard; 10 grandchildren; several great-grandchildren; nieces, nephews, and cousins; and brother, William (Bill) Franklin Wensink.
Preceded in death by: Son, John Richard McKenney; brothers, Jim and Ronald Wensink, sisters, Geraldine Kemp and Sandra Sears.
A Life Celebration will be held at Forest Lawn Memorial Park, in Detroit, Michigan, with Paster David Cooper officiating. Internment will take place, immediately following. To sign online guestbook, visit www.cremationsocietymidmi.com Arrangement made with Cremation Society of Mid-Michigan, 1-989-892-1772.