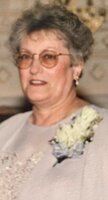 Judith Ann Dittmar
Dittmar, Judith A.
Saginaw, MI
Judith passed away on September 4, 2022 at the age of 81 years, surrounded by her family. She was born on October 23, 1940 to the late Harold J. and Ann E. Geistman in Saginaw, MI.
She enjoyed visiting with friends and family, especially her sons, Rob and Brad. There was a special place in her heart for her grandchildren and great-granddaughter.
She is survived by her sons, Robert Dittmar Jr. and his wife Lina Xu (Philadelphia, PA), and Brad Dittmar and his wife Amy (Ankeny, IA); grandchildren, Lulu Calhoun, Zoe, Olivia, and Drake Dittmar; great-granddaughter, Layla Calhoun; brother, Jim Geistman and his wife Ann; niece, Fran Zehnder and her husband Bob, and their children, Jackson and Caroline; and niece, Elena Dues and her husband Matthew Woods; and numerous cousins. The family would especially like to thank cousins Nancy and Mike Bruske for all of the help that they provided Judy during her recent illness.
A Memorial Service will be held this year on her birthday. In lieu of flowers, those planning an expression of sympathy are asked to consider memorial contributions to the Humane Society as Judy was always a lover of animals. To sign online guestbook, visit www.cremationsocietymidmi.com