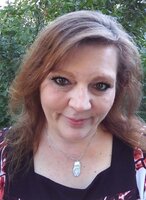 Dawn Marie Toner
Dawn Marie Toner, age 56, was born on February 3, 1966 in Saginaw Michigan to the late Patricia and Robert Pohlman. She departed this life on September 6, 2022 at Covenant Hospital with her husband by her side.
Dawn graduated from Freeland High school in 1984 and had a career in home health care before becoming a full-time homemaker. She married Rick Toner on November 4, 1994. Dawn moved to Freeland in 1994 where she raised two daughters and a son. In her spare time Dawn enjoyed spending time with her friends and family. She was also an animal lover, especially her Pomeranians who were beloved to her. In May of 2021 Dawn lost her right leg, but despite this, she still managed to stay social and as active as possible. She will always be remembered for her positive attitude and fighting spirit, despite all of her health complications.
Dawn is survived by her husband, Rick Toner; her daughters, Holly Toner and Heather Toner; her son and daughter-in-law, Tyler Munger and Nicole Munger; and her brother and sister-in-law, Robert "Bobby" Pohlman and Wendy Pohlman. She was preceded in death by her sister Debra Pohlman.
A funeral service will be held at 11 am, Friday, September 23, 2022 at Freeland Assembly of God with Pastor Tom Wirtz officiating. Following the service, the family will receive friends at Freeland Memorial Park beginning at 12 Noon. In lieu of flowers, those planning an expression of sympathy are asked to consider memorial contributions to the Humane Society of Midland County. To sign online guestbook visit www.cremationsocietymidmi.com Arrangements made with Cremation Society of Mid Michigan