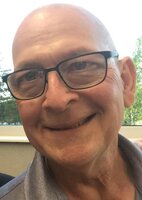 Michael Joseph Marcotte
Michael "Mike" J. Marcotte, age 62 of Owosso Michigan, passed away at home on October 21, 2022 after a heroic battle with cancer. He was born on June 3,1960 to the late Alfred and Beverly (Heusing) Marcotte of Bourbonnais, IL. He attended Trinity Church in Lansing. Mike's love for his wife and children did not escape many conversations with others.
He placed life's importance on knowing and loving Jesus. He enjoyed being a strength athlete since his teenage years. He competed in powerlifting until 2008, achieving first place Master's Awards, including best lifter. He continued lifting weights until his strength was exhausted. He was a dedicated sports fan, and watched all his children's sports events. He could recite sports statistics and trivia from his lifetime without fail. Mike liked classic rock music, but warmed to his youngest son's interest in original family-friendly rap music. Second to his love of family, Mike took great pleasure working at Shiawassee Health and Wellness as an Employment Skills Builder.
He is survived by his wife of over 27 years, Susan (Chinski) Marcotte; his children, Bethany, Hannah, Benjamin, Samuel, Joseph, and Adam Marcotte; his brother, David (Cynthia) Marcotte; sister, Nancy Thompson; nephews, Jason (KerriLynne) Thompson, Jeffrey Marcotte, and Todd (Cathy) Marcotte; nieces, Jenny (Jordan) Marcotte-Chapman, Cameron (Ethan) Marcotte-Evenson, and Stephanie Thompson. He was predeceased by his brother Donald Marcotte.
A Celebration of Life will be held at 11 AM, Friday, October 28, 2022, at Trinity Church, 3355 Dunckel Road, Lansing, MI. The family will receive friends and family at church prior to the service from 9 -11 AM. In lieu of flowers, those planning an expression of sympathy are asked to consider memorial contributions to the Wishes of the Family. To sign online guestbook, please visit www.cremationsocietymidmi.com Arrangements made with Cremation Society of Mid Michigan 989.892.1772