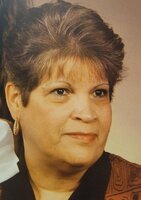 Gloria Morales
On Tuesday October 25, 2022, the heavens opened up to welcome a beautiful queen. Gloria Teneyuque Morales, age 79, a loving mother, grandmother, great-grandmother, sister, and aunt, passed away peacefully at home surrounded by her children. She was born on March 12, 1943, in San Marcos, Texas to the late Anestacio Sr. and Urbana (Rodriquez) Teneyuque. She lived in Lubbock, Texas until she migrated to Saginaw, Michigan as a young mom, and where she remained to raise her five children. She married Estanislado Morales on March 5, 1982, and he preceded her in death. She resided in Saginaw, Michigan until the time of her passing.
Gloria, affectionately known by her loved ones as "Big Momma" "Grandma Blackbird'' and "GM", was the pillar of strength for her family. She was beautiful, kind, nurturing and very humble with a heart of gold and a generous amount of love to give. Her gracious love touched and blessed so many. She was a woman of great faith and a prayer warrior always praying for loved ones and friends. Gloria was known as one of the best cooks in the Teneyuque family seasoning her food to perfection. She came from humble beginnings and was honored to show her love through cooking meals and her door was always open. She passed her exceptional cooking skills on to her children and those who wanted to learn or have her recipes. Besides her love for cooking Gloria enjoyed going to the bingo halls, playing cards, watching her Golden Girls and Andy Griffin shows, and listening to her Oldies but Goodies and Tejano music. She loved to travel to Texas to spend time with her family and visit her birthplace and past residences. Most of all she loved being with her family.
Gloria was often complemented for the beautiful job she did raising her family. She never missed an opportunity to tell them how much she loved them and how proud she was of them. They were her pride and joy. They will miss her dearly, but will lovingly carry on her beautiful legacy.
Surviving are her five loving children, Corina (Jeronimo) Gonzalez, Reta (Daniel) Casteneda Jr., Ronald (Guadalupe) Pacheco, Joe Felix (Kim) Pacheco, Betty (Adrian) Gonzalez; grandchildren, Gabriel, Andrea, Santino, Johnny, Adam, Markus, Isaiah, Kiani, Shawn, Ronnie, Melio, Anthony, Felix, Crystal, Korina, Isabella, Celia, Anthony James, Jasmine, Malcolm, Imari, and Ezra; many great-grandchildren; siblings, Raymond Teneyuque and Consuelo Deleon; two special daughters, RaMona Garth and Laura Teneyuque; special nieces and nephews of the Amador family; her 2 birds "Brother" and "Baby Brother". She was predeceased by her parents and husband; grandson, Santos "Nach" Cruz; and 5 brothers and 6 sisters.
Cremation has taken place per Gloria's wishes, and a Celebration of Life will be held from 11:00 a.m. - 1 p.m., Monday, November 7, 2022, at Greater Dimensions Church, 5545 McCarty Rd., Saginaw Michigan 48603. Visitation with family will take place at church prior to the service from 10:00 a.m. the time of the service, Pastor Julian Gonzales will officiate. Luncheon to follow after service from 1 p.m. - 3 p.m., at Pulaski Shriners Hall, 6525 Weiss Street Saginaw MI 48603.
Those expressing their sympathy with flowers may have them sent to the church before 10:00 a.m. the day of the service.
The family would like to thank the staff at Fresenius Kidney Center on N. Niagara Street in Saginaw for the many years of tender care given to Gloria. The family would also like to thank the Cremation Society of Mid-Michigan for their compassionate afterlife care of Gloria. To sign online guestbook, visit www.cremationsocietymidmi.com Arrangements made with the Cremation Society of Mid Michigan.