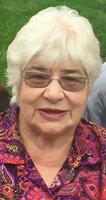 Judith Jane Collet
Judith Jane Collet, age 87, passed away November 18, 2022. She was born December 11, 1934 in Saginaw, Michigan to the late Carl R. and Jane (Thrasher) Malzahn. Judith retired from the Saginaw Public Schools where she made many lasting relationships, working as both a librarian and teacher's aide. On September 10, 1955, she married Alfred J. Collet, and he predeceased her.
She leaves two sons, Joseph (Cheryl Jones) and Jeffrey Collet; grandchildren, Michelle (Chad) Kreager, Emily (Nikk) Delacruz, and Madeline (Austin Kole) Collet; great-grandchildren, Owen and Aubree Kreager, and Marie and Lyla Delacruz; brother-in-law, Jack (Margie) Van Alstine; and several nieces and nephews.
She was predeceased by her brother, Carly Malzahn; sister, Margie (Jack) Van Alstine; and sisters-in-law, Joan (Tom) Jenkins and Eileen (Chris) Osterle.
A Memorial Service is being planned for a later date. Those planning an expression of sympathy are asked to consider memorial contributions to the Salvation Army or the Friends of Animal Shelter, P.O. Box 5717, Saginaw, MI 48603. To sign online guestbook, visit www.cremationsocietymidmi.com