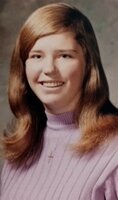 Dianne Kay Buckley
Dianne Kay Buckley
April 9, 1954 - November 21, 2022
Beloved wife, mother, sister, aunt, and dear friend passed away at her home on Monday, November 21, 2022. She was 68 years of age. Born to the late Elmer and Melna (Eischer) Mossner in Saginaw, MI. Dianne graduated from Douglas MacArthur in 1972 and worked in nutrition services at Covenant Healthcare for 44 years. She married Michael Buckley in 1981. Dianne enjoyed reading, spending time with her fur-babies, family, and was an avid attender at Beacon of Hope Church. Dianne was a lifelong follower of Jesus, which gave her much comfort in her later years of health struggles.
Surviving to cherish her memory are husband Michael Buckley, daughter Katy, twin brother Dennis (Lee) Mossner, and sister-in-law Patti Kay (Gary) Hill; along with several loving nieces, nephews, cousins, and friends. She is predeceased by her sister, Christine Mossner.
In honor of Dianne's wishes, cremation and memorial liturgy will be held at Beacon of Hope Church at a later date. Those planning an expression of sympathy may wish to consider memorial contributions for the wishes of the family, Beacon Of Hope Church in Saginaw, or The Human Society of Saginaw County. To sign online guestbook, visit www.cremationsocietymidmi.com Arrangements made with the Cremation Society of Mid Michigan.