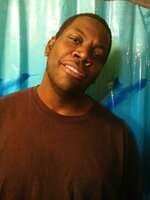 Alfonso Dupree Taylor
Mr. Alfonso "Fonso") Taylor passed away December 17, 2022 in Saginaw, MI at the age of 48. He was the son of Annie Pearl Taylor and the late Douglas Dupree. He was born on March 3rd, 1974 in Chicago, IL. On July 13, 2008 he married his wife, Staci Taylor and had eight children together: Jessalynn R. Taylor (17), Jaylen E. Taylor (15), Ja'Marianna O. Taylor (13), Ja'Marious D. Taylor (8), Jonaah L. Taylor (7), Ja'Leel D. Taylor (5), Ja'Vari Z. Taylor (3) and Ja'Layla R. Taylor (1); and a step-son Mitchell J. Ballard (20). He is also survived by his siblings and their spouses, Willie (Tawanna) Taylor Jr., Tanya (Lendell) Yarn, Howard (Kelli) Taylor, Joseph Taylor, and Charnette Taylor; and many aunts, uncles, nieces and nephews.
Alfonso "Fonso" was a member of Old Town Christian Outreach Center. He enjoyed spending time with his wife and kids, playing and putting music in cars, taking road trips, playing video games with his kids, being outdoors, and spray painting whatever he could. Fonso was always the type to help others if he could, was respectful, respected by many, loved to crack jokes and make people laugh, but above all that he had a heart of gold that was rare. What I admired most about him was he always knew or found a way to brighten my day when I was feeling down with simple things that he knew would put a smile on my face or make me cry happy tears. He was good at being sneaky when he wanted to try to surprise me with something just because.
Alfonso touched and knew a lot of people, some more than others. He taught me how to be a good wife, great mother to our children, and to always stay strong no matter what was going on. Lol, well I'm doing that the best I can. He was working on teaching and raising our sons to be gentlemen and how to treat people and have respect for others and learning just how our youngest daughters mind was working at her age although as he would say they are a work in progress...lol. He was adventurous and liked to do things spur of the moment and we never knew what he had planned next.
He will truly be missed by many and by all of his children and myself. As I know he's watching down on us and just wants us to move forward and be happy…that's what we working on. I will always love you and miss you dearly until we cross paths again where we can be together.
A Memorial Service will be held at 4 pm, January 10, 2023, at Old Town Christian Outreach Center, 600 Gratiot Ave, Saginaw, MI 48602, with Pastor Bill officiating. Family and friends are welcome to come. Floral arrangements can be delivered directly to the church for his service or his wife Staci Taylor. To sign online guestbook, visit www.cremationsocietymidmi.com Arrangements made with the Cremation Society of Mid Michigan.