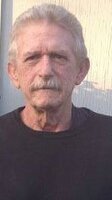 Jason Upshaw
Jason Upshaw, age 67, of Alma Michigan (formerly of Fresno California), passed away Tuesday, February 7, 2023. He was born in Ava Missouri on April 8,1955 to the late Fate Marion Upshaw and Melba Jean (Edwards) Kromberg. Although he enjoyed the outdoors, fishing, and gardening, what he loved most of all, was the time spent with his grandkids and great-grandkids.
He is survived by his children, Jason & Jennifer Upshaw of Ashley Michigan, Keith & Alesha Carll of Alma Michigan, and Christopher Gayer & Shanda Abney of Fresno California; grandchildren, Scott Linnartz, Alexis Upshaw, Jason Upshaw, Tamika Upshaw, Christa Frye, Raman Frye, Jacob Carll, Nick Carll, Shaelynn Gayer, Ashlynn Gayer, Destind Gayer, and Dycimus Gayer; several great-grandchildren; nieces & nephews; and siblings, Lonnie Joe Upshaw of Springfield Missouri, Darlene Heath of Ava Missouri, Wanda Ferguson of Clovis California, and Mary Varsela of Fresno California. He was predeceased by his siblings, Clifford Eugene Freeman and Francis Upshaw.
Per Jason's request no service will be held. To sign online guestbook, visit www.cremationsocietymidmi.com Arrangements made with the Cremation Society of Mid Michigan.