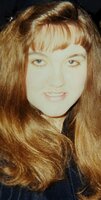 Jessica Lyn Figurski
Jessica Lyn Figurski passed away February 12, 2023. Jessica died 9 minutes before her 40th birthday, with her mother, Victoria Mackey Figurski Schalau and step-father Kenneth Schalau, by her side. Jessica was born in Rochester Michigan in 1983, and has lived in Dryden, Brown City, Marlette, Snover, Sandusky, Lupton, Fairview, and West Branch. Jess graduated from Ogemaw Heights High School in West Branch, Michigan. She used her intelligent, witty personality, and amazing sense of humor to brighten any day. Before relocating back to West Branch, Jess devoted her short life to the daily concerns of her grandmother and father, during their times of need. Jess loved reading, gaming, visiting theme parks, and caring for her fur friends, Delilah, Kitty and Zoe.
Jess is survived by her mother, Victoria Mackey Figurski Schalau; step-father, Kenneth Schalau; aunt, Gini (Gary) Trim of Halfmoon N.Y.; along with many Figurski relatives. Jessica was predeceased by her younger brother, Zack Figurski; father, Thomas Figurski; and grandmother Maryann Figurski.
True to her concerns for others, her body was donated to Gift of Life, so others could have a better life. Those planning an expression of sympathy are asked to consider memorial contributions to the Jessica Lyn Figurski - Go Fund Me page, to help with burial expenses. Jessica, the best daughter ever, will be greatly missed. May she rest in peace with her brother. To sign online guestbook, visit www.cremationsocietymidmi.com Arrangements made with Cremation Society of Mid Michigan.