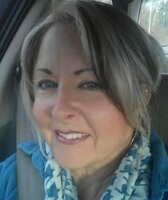 Christine Emily Randall
Christine Emily (Williams) Randall of Rhodes Michigan, passed away peacefully Monday, February 20, 2023 at Toni and Trish House in Auburn, Michigan, following an illness. She was born on November 16, 1945, to the late Ilah M. Hughes and Bill T. Williams.
Christine was married to the late Jack Loran Randall for 55 years they were wed on July 25, 1964, at Saint Brigid's Catholic Church in Midland, Michigan. Christine graduated from Midland High School in 1965.
Christine is survived by her children, daughter, Kimberly Randall of Auburn, MI and son, David Randall of Rhodes, MI; her much adored grandchildren, Philip Randall, Hunter Randall, and Tea' Randall; along with great-grandchildren, Violet, Adelyn, Armani, Karmari, and Harleigh; as well as sisters, Ann McGraw (Al Anderson), Kathy Burwick (the late Ben Burwick); brothers, Tom Williams (Sandy), and Mike Williams; along with many nieces and nephews.
She was preceded in death by her husband Jack L. Randall; parents, Ilah M. (Williams) Hughes & William (Bill) T. Williams; stepfather, John Hughes; and sister, Cynthia Ann Davidson.
Christine "Chris" and her late husband Jack were long time, loved residents at the Midland County Fair where they welcome family and friends to gather and enjoy fair time excitement, activities, and great memories. Chris was a green thumb and loved having beautiful plants and flowers surrounding her as well as feeding the Orioles and Hummingbirds.
The family will have a life celebration at a future date in the spring 2023. In lieu of flowers, those planning an expression of sympathy are asked to consider memorial contributions to Toni and Trish House, 4699 11 Mile Rd, Auburn, MI 48611. To sign online guestbook, visit www.cremationsocietymidmi.com Arrangements made with the Cremation Society of Mid Michigan.