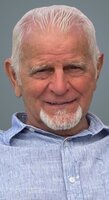 Harold Robert Guttowsky
It is with heavy hearts that we announce the passing of Harold R. Guttowsky, who passed away peacefully in his home on March 5, 2023, at the age of 79. Harold was a beloved husband, father, grandfather, brother, uncle, and friend to many. His kind heart, warm smile, and infectious laughter will be deeply missed by all who knew him.
Harold was born on December 9, 1943, in Saginaw, Michigan to Vivian (Savage) and Ira Guttowsky. He attended Saginaw High and graduated with the Class of 1960. Harold spent many years as a carpenter and had a passion for woodworking, spending countless hours in his shop creating beautiful pieces that will be cherished by his loved ones for generations to come.
Harold was a devoted family man and faithful follower of Jesus Christ who cherished his wife, Christina (Smith) Guttowsky, and family. This past August, Harold and Christina celebrated 58 wonderful years of marriage. Harold was always willing to lend a helping hand and put a smile on someone's face. He was known for great conversations, his sense of humor, and his ability to make people feel loved and appreciated. His kindness, generosity, and positive attitude will continue to inspire those who knew him.
Harold was preceded in death by his parents, Vivian and Ira Guttowsky; and his brother, James Guttowsky. He is survived by his wife, Christina Guttowsky; his daughters, Stacy (Ed) Ruhlig, Christy (CJ) Guttowsky, Jen (Brady) Lake, and Andy Ruhlig; seven grandchildren, Chad (Christine) Ruhlig, Taylor (Erin) Ruhlig, Chase Ruhlig, Trevor (Brittanie) May, Paige (Ryan) Humpert, Cole Lake, and Will Lake; three sisters, Dixie Raaf, Iris Simerson, and Diane Green; one brother, Gerald Guttowsky; and many great-grandchildren, nieces, and nephews.
A private memorial dinner will be held at a later date to celebrate Harold's life and the memories he created with those he loved. Harold will be deeply missed, but will forever hold a special place in the hearts of his family and friends. Flowers and condolences may be offered to 5250 South Graham Rd Saint Charles, MI 48655. To sign online guestbook, visit www.cremationsocietymidmi.com Arrangements made with the Cremation Society of Mid Michigan.